EURO / UK ORDERS: Acid King - Beyond Vision Worldwide Edition Transparent Teal Green Vinyl LP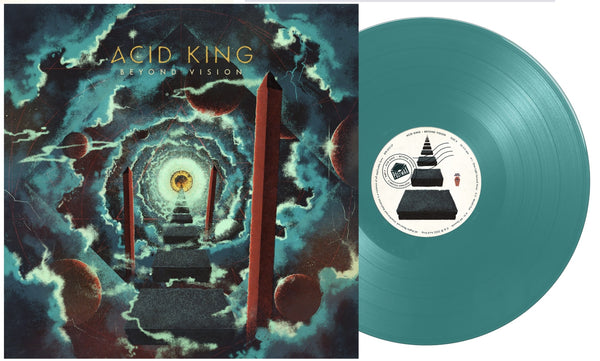 EURO / UK ORDERS: Acid King - Beyond Vision Worldwide Edition Transparent Teal Green Vinyl LP
Release Date:  March 24, 2023
First Worldwide Pressing on Cosmic Teal Green Vinyl
Note: This record ships from within Europe, and shipping costs are calculated for shipping to destinations in the UK, Europe, Australia, etc. To order in North America, there is a version with "US ORDERS" in the item title.
Acid King are heavy rock royalty, creators of some of the most monolithic riffs and heaviest tones ever known. At long last, they return with Beyond Vision, their first new album since 2015's Middle Of Nowhere, Center of Everywhere.

With blistering guitars and swirling power dirges aplenty, Beyond Vision began as an experiment and became the path to a silver future.  Recorded by longtime producer Billy Anderson, the songs flow into each other without beginning or ending, propelled by an undulating, lysergic pulse that takes listeners wherever they'd like to go.

Tracing the winding path of interplanetary existence, Beyond Vision is a monumental return, and begins a new era for the band who built the template for thundering, swinging, trip-inducing doom.